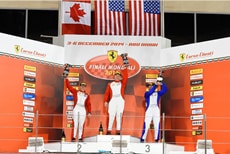 December 8, 2014 (Los Angeles, Calif.) -- Chris Ruud and Scuderia Corsa brought an end to their racing season in style – with a victory and two podiums at the Finali Mondiali held at the Yas Marina Circuit in Abu Dhabi, UAE. The season-ending celebration of Ferrari's motorsports programs, which includes Formula One demonstrations and the XX Programme, the Finali Mondiali also featured three Ferrari Challenge races held on the 3.4-mile, state-of-the-art Yas Marina circuit. Having already secured the Ferrari Challenge North
American championship in the Coppa Shell class, Ruud put an exclamation mark on his season by taking victory in his first race and finishing as the runner-up in the second race of the weekend. The victory pushed Ruud's total for the season to eight victories out of a possible 19 Ferrari Challenge races. In the third and final race of the weekend – the World Final Championship race – Ruud finished third in the Coppa Shell class against competition from the Ferrari Challenge Europe and Ferrari Challenge Asia series. "The World Finals turned out to be a magical weekend in many ways," said Ruud. "I was able to realize the championship trophy for an amazing season. Also, I am proud to bring a World Finals podium for North America alongside Trofeo Pirelli winner Ricardo Perez for the first time in many years. I would like to thank the entire Scuderia Corsa team for the wins and for all of their support and guidance this season. It truly was a team effort!"
The Finali Mondiali capped a season of success for Scuderia Corsa. The team captured two victories
(Detroit, Indianapolis) and one additional podium (Virginia) in the TUDOR United Sportscar Championship in addition to a total of eleven victories in Ferrari Challenge which enabled Scuderia Corsa to finish second in the Ferrari Challenge team championship.
"Chris Ruud's performance at the Finali Mondiali was the perfect way to end the season," said Giacomo
Mattioli, owner of Scuderia Corsa. "Chris demonstrated why he was the deserving North American Coppa
Shell champion by finishing on the podium in each race and taking one victory. He put on a fantastic
performance in the biggest race of the season. We are all extremely proud of him. I would like to thank John
Becker, John Horesji and Harry Cheung for their essential contributions to the team which helped Scuderia
Corsa secure second place in the dealership championship."
Scuderia Corsa will make an announcement regarding its 2015 Ferrari Challenge program, as well as its
Pirelli World Challenge program, in the coming weeks. The team has previously announced its entry in the
2015 TUDOR United Sportscar Championship with drivers Bill Sweedler and Townsend Bell in the no. 63
Scuderia Corsa Ferrari 458 Italia in the GT-Daytona class.