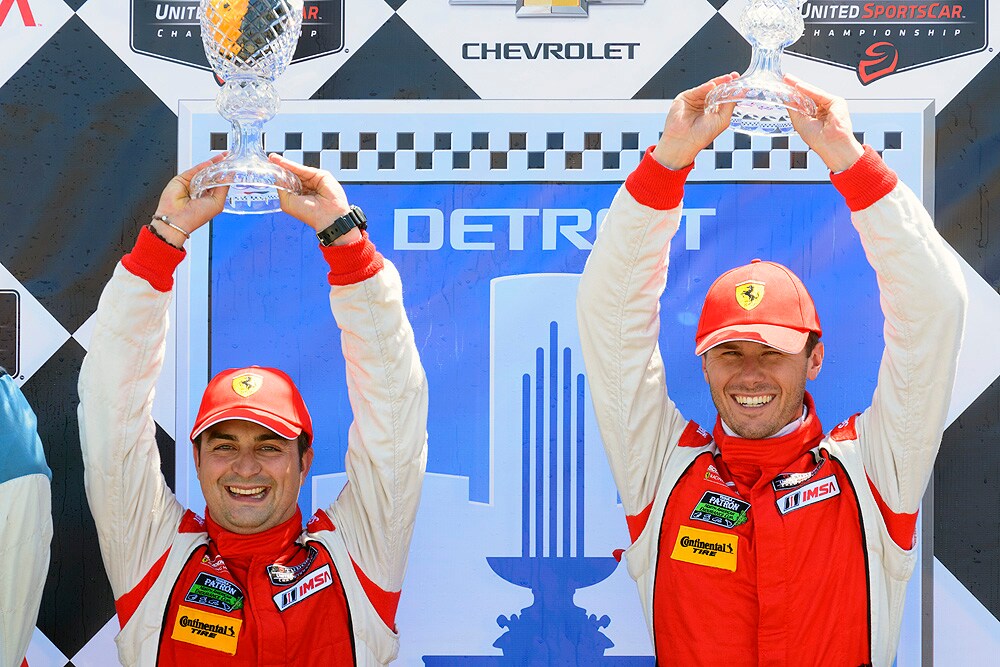 May 31, 2014 (Los Angeles, Calif.) After finishing second last year on the Raceway at Belle Isle, Alessandro Balzan and Jeff Westphal went one better as they scored a dramatic victory in Saturday Chevrolet Sports Car Classic on Belle Isle in Detroit, Michigan.
Starting from the sixth position, Westphal put in a strong stint to advance the no. 63 Scuderia Corsa Ferrari 458 Italia up to third position before the race's first caution period. During the stop, the Scuderia Corsa team executed a two-tire pit stop quickly enough for the car, now with Balzan behind the wheel, to take over the lead of the GT-D class.
Another caution period set up a dramatic final 27-lap stretch to the finish saw Balzan hold off a large number of cars for the victory. The margin of victory was a scant 0.297-second, and his first victory since he drove the no. 63 Scuderia Corsa Ferrari 458 Italia to victory in last season's Rolex Series race at Kansas Speedway. Balzan would go on to capture the Rolex Series drivers' championship.
"I am very happy for Scuderia Corsa and for Ferrari because it's their 60th anniversary in North America," said Balzan. "It's a great day. We were expecting a top-five and we knew we had a fast car for long runs, but we didn't expect to win. I am very proud because the level of competition is so high now in GT-Daytona. We didn't have the fastest car but we played a very good strategy and I'm very proud of my guys for the pit-stop they gave us. We did a lot of practice and they did it perfectly. We are struggling a bit with top speed, but the Ferrari handles very well. But today, we think about the win!"
For Westphal, Detroit marked his first win in a major sports car race after finishing in second position twice in the 2013 when he was teamed with Balzan.
"This is huge for Ferrari for the 60th anniversary of North America and huge for Scuderia Corsa to put this together," said Westphal. "We went into the race knowing that we didn't have the fastest car in a straight line, and it was going to be a difficult race. I tried to make use of the opportunities that I was given at the start to pick people off. Slowly but surely we started making our way to the front and catching the leaders. I've come really close with Scuderia Corsa before. Last year we finished second here, but first tastes so much better."
Team owner Giacomo Mattioli, who made the decision to only take two tires during the pit stop, praised the work of his Scuderia Corsa team for the fast pit stop that helped win the race for his Ferrari.
"The team did a really amazing job, it was fantastic," said Mattioli. "Jeff did a great first stint, Alessandro drove an amazing race, and I'm super happy about the team. We didn't have the quickest car but we made some adjustments before the race, and the team did an outstanding job in the pits to come out ahead. Our drivers and crew worked very hard to perfect the stop. It was a real team effort."
The next TUDOR Championship race for Scuderia Corsa will be the Sahlen's Six Hours at the Glen on June 28-29 at Watkins Glen International in Watkins Glen, New York.