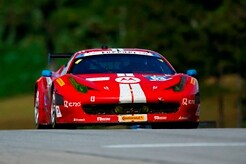 Sweedler and Bell Join Scuderia Corsa for 2015 TUDOR United Sports Car Championship
North American Endurance Cup winning duo will drive no. 63 Scuderia Corsa Ferrari 458 Italia in GT-Daytona class
November 6, 2014 (Los Angeles, Calif.) – Demonstrating its commitment to winning the 2015 TUDOR United Sports Car Championship, Scuderia Corsa is proud to announce the addition of drivers Bill Sweedler and Townsend Bell to the team.
Sweedler and Bell will pilot the team's flagship no. 63 Scuderia Corsa Ferrari 458 Italia in the GT-Daytona class. At the wheel of a Ferrari 458 Italia during the 2014 TUDOR Championship season, Sweedler and Bell were victorious in the 2014 Rolex 24 at Daytona and handily won the Patron North American Endurance Cup. The duo led much of the season championship in the GT-D class, and winning the championship in 2015 remains their primary goal.
"We are really excited about competing for the GT-D championship with Scuderia Corsa," said Sweedler. "Giacomo Mattioli's dedication to building the best Ferrari racing program as well as the best Ferrari dealerships offers the ideal place to maximize our racing and commercial sponsorship goals going forward. We really enjoy racing in the TUDOR Championship and competing against the best drivers and teams in sports car racing and we hope to bring another championship to Ferrari in 2015."
"It goes without saying that we are very excited about joining Scuderia Corsa," said Bell. "On many levels, this partnership will make a lot of sense. I'm thrilled to be continuing our relationship with Ferrari and to continue driving the Ferrari 458 Italia. Scuderia Corsa won two races last year, they are a championship winning team, and as a bonus for me it is great to be joining a team that is also based in Los Angeles where I live! I am looking forward to a lot of success with this program."
In the 2014 season, Scuderia Corsa captured two victories in the GT-Daytona class (Detroit and Indianapolis) after winning the 2013 GRAND-AM Rolex Sports Car Series GT class championship. The team also competes in the Ferrari Challenge Trofeo Pirelli, where Scuderia Corsa driver Chris Ruud had captured the 2014 championship in the Coppa Shell class.
"As winners of the Rolex 24 at Daytona as well as the North American Endurance Cup, Bill and Townsend were some of our most formidable competitors in the GT-Daytona class," said Mattioli. "We are very excited that they will be joining us at Scuderia Corsa. Everyone within the team is committed to winning in the TUDOR Championship and to represent the Ferrari brand in the premier racing series in North America. After competing against Bill and Townsend over the past year, we are thrilled that they will be in our Ferrari and not competing against us!"
Sweedler and Bell will compete with Scuderia Corsa for the first time at the Rolex 24 at Daytona on January 22-25 at Daytona International Speedway in Daytona Beach, Florida.
__________
About Scuderia Corsa
The 2013 Grand-AM Rolex GT championship-winning team Scuderia Corsa was founded in 2011 by Giacomo Mattioli and Art Zafiropoulo. The team was created for the sole purpose of supporting the racing needs of Ferrari clients and includes turnkey programs, GT endurance racing, the North American Ferrari Challenge Series and track events. Giacomo Mattioli is the owner of Ferrari Beverly Hills, Los Angeles, South Bay and partner in Ferrari Maserati Silicon Valley with Art Zafiropoulo.
Follow Scuderia Corsa on Twitter @Scuderia_Corsa, on Facebook at Scuderia Corsa, Instagram at #Scuderiacorsaferrari and ScuderiaCorsa.com
Team Sponsors

Ferrari Beverly Hills
/
Los Angeles
/
Silicon Valley
/
South Bay
–
North America's premiere Ferrari dealership group specializing in new and pre-owned sales, Classiche designation work, collision repair and factory trained service and original parts.
Motorola Mobility
– owned by Google, fuses innovative technology with human insights to create experiences that simplify, connect and enrich people's lives.
Ferrari Palm Beach
– Providing the exclusive Palm Beach market with a premium inventory of new and pre-owned Ferraris, state-of-the-art facilities and technicians for expert maintenance and repair.
Wide World Ferrari
– Located in Spring Valley, New York, offering Ferrari customers a premium selection of new and pre-owned Ferraris, expert authorized service and exclusive Ferrari certified body repair.
AitherCO2
- we offer trading and advisory services to the world's environmental and energy markets. By developing a Voluntary Offset Program for Scuderia Corsa we are helping socially responsible clients become carbon neutral while supporting eco projects in communities across the globe. Our goal is to turn today's business challenges into environmentally sound solutions. 360 Lab - 360 Lab is a technology company focusing on creating and broadcasting immersive 360 degree video experiences in sports and surveillance markets.
Ultratech
- A pioneer of laser processing, Ultratech designs, manufactures and markets photolithography and laser processing equipment.

Technical Suppliers

Motegi Racing
- through technical partnerships with leading professional racing teams, Motegi Racing Competition and High Performance Tuning wheels are designed and engineered for performance. Motegi Racing is a Wheel Pros brand. Wheel Pros products are sold worldwide in more than 20 countries on four continents and through a U.S. network of more than 10,000 active dealers.
Sabelt
- leading manufacturer of seat belts and safety harnesses for production and racings cars, race suits, shoes and helmets, carbon seats for automobiles and child restraint systems worldwide.
AllState
- Allstate Roadside Services strives to provide the industry's best roadside experience for our partners, their customers and our service providers.

For Media Inquiries, please contact:
Email:
press.racing@ferraribeverlyhills.com

Pictures Credits Tudor United SportsCar Championship: Bob Chapman, Autosport Image