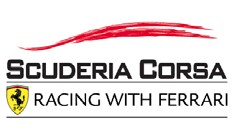 IMSA Laguna Seca weekend is annual celebration for Ferrari Silicon Valley
Team will field GT-LeMans and GT-Daytona Ferraris once again this weekend
Currently second in GT-Daytona championship, Nielsen, Balzan and Scuderia Corsa look to defend victory from 12 Hours of Sebring
April 25, 2016 (Los Angeles, Calif.) – After a weekend in Long Beach where Scuderia Corsa raced only a few miles from its partner dealers in the Los Angeles area, the team will now compete in front of the friends of its Northern California dealer - Ferrari Silicon Valley.
At this weekend's round of the IMSA SportsCar Championship at Laguna Seca, Scuderia Corsa will remain a two-car program as the no. 68 Scuderia Corsa Ferrari 488 GTE driven by Alessandro Pier Guidi and Daniel Serra will race in the GT-LeMans class and the no. 63 Scuderia Corsa Ferrari driven by Christina Nielsen and Alessandro Balzan in the GT-Daytona class. It will be a unique weekend with a pair of two-hour races held on Sunday – one for the Prototype and GT-LeMans classes, and the other for the Prototype Challenge and GT-Daytona classes.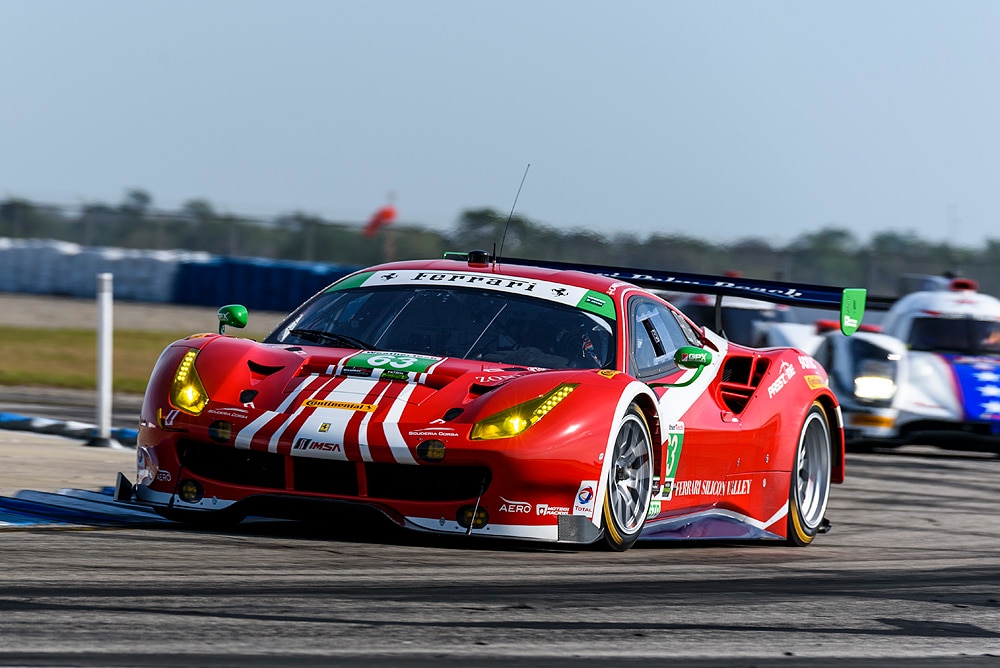 Nielsen and Balzan have jumped to second position in the GT-Daytona driver's championship, and Scuderia Corsa is now second in the team championship, after their victory at Sebring. The challenging of chasing the championship as well as racing in front of so many Ferrari Silicon Valley guests is at the front of the driver's minds.
"I'm very glad to have a win this year, and to have it at Sebring was absolutely amazing," said Nielsen. "It's always important to remember that if you want to win championships, it's not always about race wins, it's about race points. This is pretty much a home race for the team, so to be able to do well in front of the people who really matter is a big deal. It's a big thing for Giacomo (Mattioli) as well. They're going to bring clients out, so when there's a Ferrari audience watching, you want to do especially well."
Adding to the experience for the team's guests, the no. 68 Scuderia Corsa Ferrari 488 GTE will make its first start at Laguna Seca. Scuderia Corsa's foray into the GT-LeMans class has shown promising speed out of the drivers and cars, which the team hopes to convert into a strong finish in front of the Ferrari Silicon Valley and partners onsite to cheer for the team.
"There is extra motivation for Daniel and I because it is an important weekend for Scuderia Corsa and Ferrari Silicon Valley," said Pier Guidi. "Laguna Seca is a challenging place but because it places so much importance on high speed cornering, it will be a good circuit for the Ferrari 488 GTE."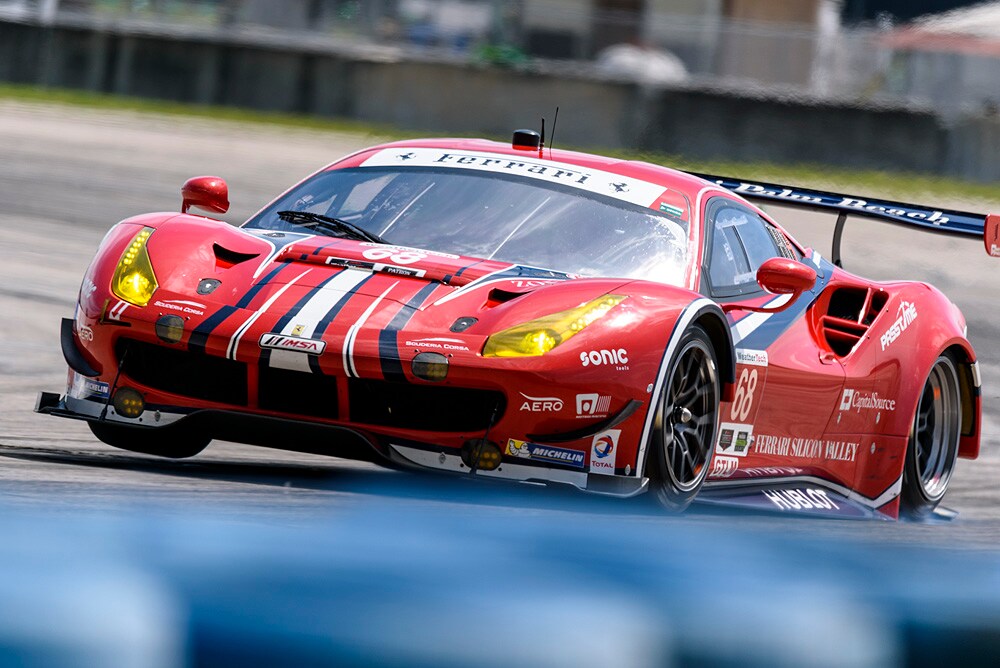 "This is a special weekend for us," said Giacomo Mattioli, Scuderia Corsa team owner. "The very first debut of Scuderia Corsa was at Laguna Seca in 2012 so it always brings great memories to race here. This weekend is a wonderful opportunity for all of our friends and partners to enjoy the Laguna Seca facility – we will have over 50 clients driving their Ferraris from Ferrari Silicon Valley to Laguna Seca – and they will be treated to great hospitality, see our beautiful Ferrari 488s up close and in person, and watch exciting racing. There is a great feeling within the team after winning at Sebring in GT-Daytona and the performances we've had so far in GT-LeMans. Our team is coming with expectations to put on a great show in Sunday's races."
The first race on Sunday, featuring the GT-LeMans class, will be broadcast live at 2:00 PM ET on FOX Sports 1. The second race, featuring the GT-Daytona class, will be broadcast live at 6:30 PM ET on FOX Sports 2. A rebroadcast will be shown Monday, May 2 at 12:30 AM ET.
About Scuderia Corsa
2015 24Hours of Le Mans Podium, 2015 IMSA GTD and 2013 Grand-AM Rolex GT championship-winning team Scuderia Corsa was founded in 2013 by Giacomo Mattioli and Art Zafiropoulo.
Team Sponsors:
Ferrari Beverly Hills
/
Los Angeles
/
Silicon Valley
/
South Bay
- North America's premiere Ferrari dealership group specializing in new and pre-owned sales, Classiche designation work, collision repair and factory trained service and original parts.
Square 1 Bank
is a division of
Pacific Western Bank
, a Los Angeles-based commercial bank with over $21 billion in assets. A full service financial services partner to entrepreneurs and their investors, Square 1 provides clients flexible resources and attentive service to help their companies grow. Square 1 offers a broad range of venture debt, treasury and cash management solutions through offices in top innovation centers: Austin, the Bay Area, Boston, Chicago, Denver, Durham, Los Angeles, Minneapolis, New York, San Diego, Seattle and Washington, DC. Pacific Western Bank is a wholly-owned subsidiary of PacWest Bancorp (NASDAQ:PACW).
Ferrari Palm Beach
- Providing the exclusive Palm Beach market with a premium inventory of new and pre-owned Ferraris, state-of-the-art facilities and technicians for expert maintenance and repair.
Wide World Ferrari
- Located in Spring Valley, New York, offering Ferrari customers a premium selection of new and pre-owned Ferraris, expert authorized service and exclusive Ferrari certified body repair.
Zonin Prosecco
- Zonini1821's flagship wine, Zonin Prosecco is a lively, sparkling wine that is essential to having fun Italian-style. It is not just a sparkling wine, but a wine that sparkles.
Hublot
- A champion of innovation, Hublot revolutionized the watch industry with the introduction of the Big Bang, a multiple award winning timepiece created using a combination of precious metals with rubber. Since then, the Swiss brand has become universally known for the concept, "Art of Fusion." From in-house watch complications to world-class collaborations, Hublot is constantly evolving and looking to the future.
PassTime
- PassTime GPS has been in business for more than 25 years in the global transportation industry. Our wireless GPS products are available to auto dealers, auto finance companies, auto leasing companies, insurance companies and fleet transportation provider's in the USA, Canada, Europe, Latin America, Middle East and Asia Pacific.
Ultratech
- A pioneer of laser processing, Ultratech designs, manufactures and markets photolithography and laser processing equipment.
SONIC Tools
- SONIC Tools is the North American subsidiary of Sonic Equipment, the world's market leader in premium hand tools and tool box systems for both commercial and consumer use. The company's mission is to elevate efficiency in the professional workshop through its premium hand tools and unique tool organization solutions. Sonic Tools' precision-crafted tools, toolboxes and wall systems are found in the world's most progressive automotive enterprises, and personal garages.
Technical Suppliers
Motegi Racing
- through technical partnerships with leading professional racing teams, Motegi Racing Competition and High Performance Tuning wheels are designed and engineered for performance. Motegi Racing is a Wheel Pros brand. Wheel Pros products are sold worldwide in more than 20 countries on four continents and through a U.S. network of more than 10,000 active dealers.
Sabelt
- leading manufacturer of seat belts and safety harnesses for production and racings cars, race suits, shoes and helmets, carbon seats for automobiles and child restraint systems worldwide.
AERO
Advanced Paint Technology is the world's only ultra-durable, film-based paint appliqué. AERO is 50 percent lighter than traditional paint, has 100x superior durability, is strip-able, and has virtually zero carbon footprint. AERO the future of paint.
AllState
- Allstate Roadside Services strives to provide the industry's best roadside experience for our partners, their customers and our service providers.
For Media Inquiries, please contact:
Email: press.racing@ferraribeverlyhills.com
Pictures Credits: Bob Chapman, Autosport Image